From "Swan Lake" movies to "Frankenstein" movies to hitting the pop charts, the arts have always been deeply influenced by artists from the LGBTQ community. Now a book about to be released, "LGBTQ+ Icons" spotlights 50 trailblazing artists from around the world who have made indelible contributions to culture. We caught up with one of the creators of the book, who himself is something of a local artistic icon.
TRANSCRIPTION
Russia does not recognize that Tchaikovsky was gay. A new book recognizes the Swan Lake composer for his artistic talent and for a part of his personal life that has been redacted from some biographies.
David Lee Csicsko, artist, illustrator: All of these people have done so much to enrich our everyday culture that we hear or see all the time. And a lot of the people in the book are people who may have disappeared from the spotlight, who we wanted to recognize and tell young people about them.
Marc Vitali: We caught up with artist David Lee Csicsko who, along with writer Owen Keehnen, made the book to honor late art icons – including some last-minute additions.
csicsko: Owen and I had a conversation at this bookstore in February a year ago. We were looking at the publications that were out there and I said, "You know, I think we can do a much better job of making a really lively and fun book that celebrates the history of the LGBTQ community in the arts."
A soon-to-be-published book highlights 50 pioneering artists from around the world who have made indelible contributions to culture. (WTTW News)

And so the book came out as a project that we both thought, 'Wouldn't it be cool to do this book?'
Vitali: Csicsko's work is all over the city. From mosaics at Belmont el station… to stained glass windows at Lurie Children's Hospital… to tote bags for local businesses and nonprofits, including Lyric Opera and our sister station WFMT.
csicsko: It starts with sketches, then I scan the sketch with my iPhone to my computer, then build it from there.
I am looking for beautiful pictures of the subject. In the case of Radclyffe Hall, who wrote the first recognized lesbian novel – which has a terrible title, "The Well of Loneliness" – but there are pictures of her and her partner with their champion dachshunds in England, and since I have a dachshund, I was delighted to find this picture. So I drew her with a dachshund.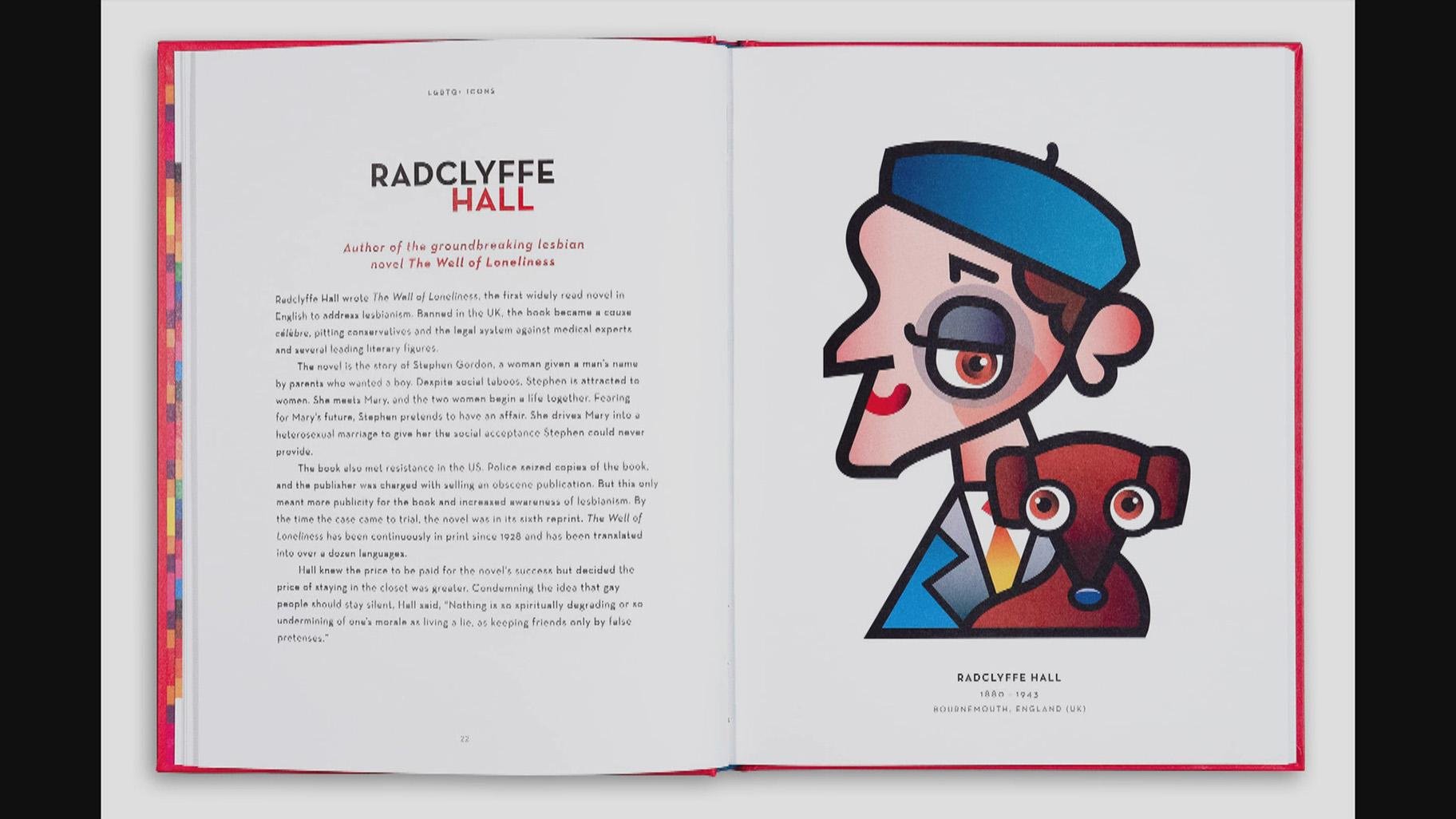 An illustration of David Lee Csicsko of Radclyffe Hall, who wrote the first acclaimed lesbian novel. (WTTW News)

Vitali: James Whale, the director of "Frankenstein", was drawn with an electrode on his neck. Frida Kahlo has a small mustache on her lip. From Frida to Freddie Mercury, the creators of the book had a difficult editing process.
csicsko: We looked back and made a list of our favorites, and basically argued over who got into the book. It was very difficult to make the cut. We had to leave out a few favorite people, but we really wanted to be representative of the community as a whole, even though all of those people passed away, but we really wanted to celebrate them.
Vitali: Celebration or not, the book is published in a difficult political climate.
csicsko: Sooner or later, everything becomes political, and especially in the times we live in now where certain politicians try to erase certain things or take away freedoms from various groups. And the fact that we made it into a book for young people and it's now being challenged in public education in Florida. We're really lucky to live where we live where we can get things done and put them on the table. And I hope this book is a wonderful book for young people and their parents and relatives and friends to create discussion and just make people feel good.
What I'm trying to do is give you a bright spot in your day and create something wonderful that hopefully puts a smile on your face, but is also smart and witty and just… an interesting place.
More on this story: "LGBTQ+ Icons" was supposed to be released this month, but supply chain issues pushed the release date to July 12.
---